The Ocean Foundation's SeaGrass Grow! program offers voluntary opportunities to naturally offset greenhouse gas emissions in the ocean – known as "Blue Carbon."
The natural coastal ecosystems of seagrasses, tidal marshes, and mangroves take up and sequester large quantities of carbon in both the plants and in the sediment below them. If these ecosystems are degraded or damaged by human activities, their capacity as carbon sinks is lost. Recent studies on mangrove forests, salt marshes, and seagrasses even suggest that these areas could play significant roles in future climate mitigation (if restored and protected). However, there are many questions to be answered before the opportunity that blue carbon systems present can be fully evaluated. For example, how much carbon do coastal ecosystems store compared to other ecosystems? Are carbon storage rates different in different parts of the ocean? And based on this, how economical are investments in blue carbon ecosystem options for climate mitigation? Does it have a place in the potential carbon markets? Could preserving blue carbon options also significantly contribute to promoting habitat protection and thus biodiversity?
The Ocean Foundation and others are investing in finding answers to these questions, and are beginning to get results. Confirmation of key blue carbon attributes includes:
Seagrass ecosystems store more carbon per square kilometer than forests!
Seagrass meadows can protect nearby coral reefs and other calcifying organisms, including mollusks, from the effects of ocean acidification.
To jump-start this cutting edge focus on natural coastal ecosystems, The Ocean Foundation created SeaGrass Grow! to restore seagrass habitat that offers protection from storms and prevention of shoreline erosion, and also locally fixes carbon (to slow ocean acidification) and stores carbon (with long-term sequestration). Healthy seagrass meadows also support tourism, food security, and both commercial and recreational fishing. And, in addition to providing nurseries for fish, seagrass meadows also offer grazing opportunities for endangered sea turtles, manatees, and dugongs.
In conjunction with its work to restore lost and damaged seagrass meadows, The Ocean Foundation also works to preserve blue carbon across the globe. The Ocean Foundation hosts the Blue Climate Coalition, which seeks enhanced international recognition of the opportunities to certify carbon credits in coastal carbon ecosystems, and facilitate the inclusion of the carbon value of coastal ecosystems in the accounting of ecosystem services. Thus, The Ocean Foundation will, in the future, offer real and permanent emissions offsets that are credible, and carbon sequestration that is verifiable. Presently The Ocean Foundation is "banking" the square kilometers of restoration in anticipation of certification, and, thus will also have developed a network of demonstration projects.
Ultimately, The Ocean Foundation plans to take this concept to scale and provide a credible source of well-quantified and well-monitored blue carbon credits. Because much of our restoration is focused on restoration due to damage from boat groundings and prop scars, our efforts are helping to stop erosion from wave energy in damaged seagrass patches within otherwise healthy seagrass meadows. In this way, we are "arresting further habitat loss and encouraging natural recovery" per  Irving AD, Connell SD, Russell BD (2011) Restoring Coastal Plants to Improve Global Carbon Storage: Reaping What We Sow. PLoS ONE 6(3): e18311.
The Ocean Foundation acknowledges Columbia Sportswear and Absolut Vodka as donor-partners who have made this blue carbon effort possible.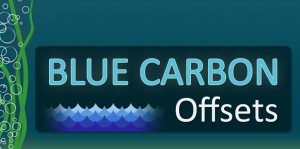 Offset your emissions today by using our Blue Carbon Offsets Calculator
OR DONATE NOW!
About The Ocean Foundation


The Ocean Foundation (TOF) is a unique community foundation with a mission to support, strengthen, and promote those organizations dedicated to reversing the trend of destruction of ocean environments around the world. TOF delivers on its slogan "…Tell us what you want to do for the ocean; We will take care of the rest." We work with a diverse community of donors who care about the coasts and ocean. In this manner, TOF grows the financial resources available to support marine conservation in order to promote healthy ocean ecosystems and benefit the human communities that depend on them. We use a well-established business model (the community foundation) to serve donors and partners interested in marine conservation. Thus, TOF focuses on increasing the capacity of conservation organizations, hosting projects and funds, and supporting those working to improve the health of ocean species globally. TOF's human community includes the donors, governments and grantees that are engaged in ocean conservation all over the world. TOF has grantees, partners and projects on all the world's continents. The Ocean Foundation Board of Directors is comprised of individuals with significant experience in marine conservation philanthropy, complemented by an expert, professional staff, and a growing international advisory board of scientists, policy makers, educators, legal specialists, and other top experts. For more information, please visit www.oceanfdn.org